Best Oahu Beaches
East Oahu Beaches
Got a picture in mind of what the perfect Hawaiian beach looks like? Lanikai Beach fits that picture exactly and is located in the neighborhood of Lanikai in Kailua, which is on the Windward East side of Oahu.
Soak up the sun and escape to a tropical oasis with Lanikai Beach. Take a dip in the warm water and enjoy the endless miles of calm aqua-blue waters! Whether you're visiting for a day, weekend, or longer, enjoy the serenity and beauty of this beach on the Windward East side of Oahu.
Overview of Lanikai Beach
Don't miss out on the most beautiful beach in Hawaii. Escape to Lanikai, which means "heavenly ocean," where your worries wash away as the waves crash onto the shoreline. Many continue to rank Lanikai as among the best beaches in the world. The beach is known for its spectacular views and breathtaking scenery:
The sunrise and moonrise, seen from this beach, make it a popular spot for viewing.
From this vantage point, we can see the stunning offshore islands known locally as "the Mokes."
Spectacular panoramic views from the Lanikai Pillboxes.
Regardless of the beauty, the development of seawalls has caused erosion to the white-sandy beach, decreasing the beach to a half-mile long. Despite the small size, so many revere this beach's beauty.
The Mokulua Islands are an incredible tropical paradise off the coast of Lanikai Beach. They have white sand and azure blue waters that make you feel like you're on a postcard! Both islands are protected sea bird sanctuaries and are only accessible via the Northern Moke beach. Most visitors reach the islands by kayak, and you can either bring your kayak or rent one from Kailua Beach.
As a popular spot for locals and a family-friendly destination, this beach provides calm waters that improve the experience. Enjoy activities from kayaking to other paddle sports to snorkeling at bay with the coral.
Directions to Lanikai Beach
From Waikiki, head west on the H1.
Take the Pali Highway (61) until you reach Kailua.
Continue on Kailua Blvd., merge left onto Kuhio Ave.
Turn right onto Lihiwai Rd. and follow it until it turns into Kawaiola Rd.
Turn right into Alala Rd., which will turn into Mokulua Drive.
Follow Mokumanu Drive as it loops around to the ocean side of Aalapapa Dr. That's where you'll find all the beach access points, plus parking.
Start to look for parking once you locate Kawailoa Rd. You can find a more secluded beach at the Kuailima Dr. access point (farther down Aalapapa Dr.).

Essential Tips for a Great Visit to Lanikai Beach
Here are some tips and tricks to make your trip more enjoyable!
Public access: One can only access the beach through public access walkways. The walkways to Lanikai Beach begin between the residential homes, and please proceed on the walkway concerning the private properties. Look for the pillar with the sign "Lanikai," which stands near the beach's entrance.
Parking: Many people struggle to find parking during the weekend or vacation season but avoid parking illegally as fines are excessive.
Best days to visit: The best time to visit Lanikai Beach on Oahu is during the week when it tends to be quieter and less crowded.
Stinging creatures: Watch out for the Portuguese Man-of-War (jellyfish) and stinging limu (seaweed), especially from June through September. Wearing swimming shoes or fins may help.
No lifeguards: Keep an eye on your kids and yourself at Lanikai Beach - there's no lifeguard on duty.

Lanikai Beach Amenities
Lanikai Beach lacks most amenities, including on-duty lifeguards and a public parking lot. Fortunately, Kailua Beach Park has restrooms, picnic tables, and outdoor shower facilities.
— article continued below —
Updated Oahu Visitor Guides
If you're visiting Oahu soon, be sure to download your copy of one of our updated Oahu Visitor Guides. We've updated both travel guides with a lot of new great information for potential visitors (and those who've been a time or two as well).
~ Trusted by Millions of Hawaii Visitors Annually ~
Enjoying Lanikai Beach
Family Activities at Lanikai Beach
Kids and adults alike can enjoy the peace at Lanikai Beach. Watch the kids play games on the soft white sand as you enjoy the fantastic ocean views. Enjoy swimming in the azure blue waters. Yet, keep an eye on your kids and yourself at Lanikai Beach - there's no lifeguard on duty. 
Other great family activities include:
Hiking the Lanikai Pillboxes

Visiting the nearby Kailua Farmers Market

Kayaking the Lanikai's azure waters

Watching exotic birds at the Mokes

Go island hopping
Lanikai Beach Activities
Kayaking, paddle boarding, and swimming: Laniaki's calm waters make Kayaking or paddling ideal with a mountain backdrop. Consider paddling your way to The Mokes, offshore islands. The beach is also an excellent swimming spot.
Sailing and windsurfing: The wind can also be good here. If that weren't enough.
Snorkeling: Though the area may lack marine life and clarity, the calm water and beginner-friendly conditions make it an excellent spot for kids and beginners to get a feel for the water. You can find some nice patches of the reef for snorkeling.
Hike to Lanikai Pillbox: Enjoy this popular and exciting hike that offers stunning views of Lanikai Beach, Kailua Town, and the Koʻolau coast. History buffs will enjoy the set of leftover army bunkers at the top. The one-mile trek to the pillboxes is short but steep, making it a great hiking experience for everyone. The trailhead begins behind the Lanikai neighborhood. 
Paddling: You can find many canoe and paddling clubs practicing off the coast of Lanikai. This is an excellent opportunity to give it a try! Head out to Kailua Beach to rent equipment.
Nearby Attractions and Sights
Paradise Bay Resort: Check out the nearby Paradise Bay Resort if you'll be staying in the area, as it's a short 20-minute drive from Lanikai Beach. 
Stroll downtown Kailua area: Kailua is remarkable for its charming architecture, good restaurants, and easy access to the beach. There are several lovely shops in the area and some great restaurants you'll enjoy. It is only a five-minute drive from Lanikai Beach.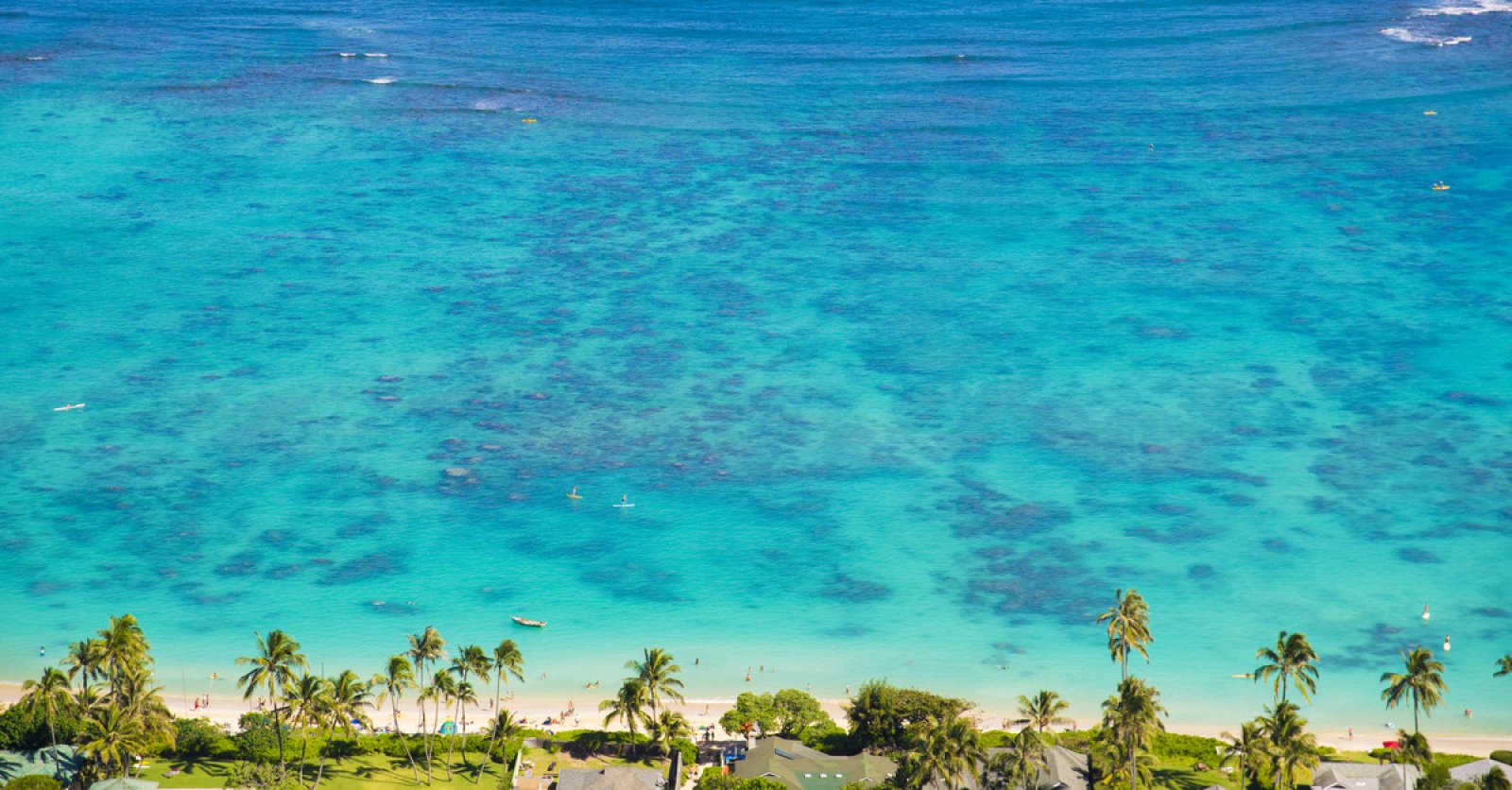 Book Your Lanikai Beach Activities
You May Also Be Interested In